FFF = Ful Fam Forum (say that five times fast... woof!)
Hi there, friend! I am SO excited you're here. Insert my excitement in visual form: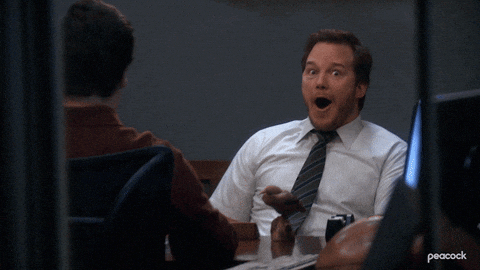 If this is your first time reading this post, you're probably reacting in one of two ways:
You're pumped. FINALLY there's a space where I can connect with Coach Ali and other professionals like me who've been one of her clients/program members/mentees. How do I get started?

You're confused. I'm not sure what this is or how a forum like this will help me. But hey, I'm interested, Ali, I just want to know more.
If either of these reactions represents you, keep reading to allow me to answer your questions...
Why does the FFF exist?
90% of the work I do as a coach is 1-on-1 while the other 10% comes in the form of limited-time group programs and large-scale workshops. In all situations, I've noticed a common thread: my clients share the same problems, yet they don't get a chance to connect.
So, I asked myself a "what if" question:
What if... a space existed where clients of past & present could connect and help one another?
*Insert the FFF*, a virtual space for you, me and the other Ful Life clients of past & present to come together, ask questions, have honest conversations, and help each other out.
How do I use the FFF?
We're going to keep this answer simple with 3 rules broken down in a lovely bulleted list.
Speak with respect. Before you hit the "Post" button, re-read your response. Is it considerate of that person's situation? Are you considering that person's 3 E's (experience, emotions and environment)? We are all different people with different perspectives, which this forum is meant to encourage, so join me on the encouragement train!

Ask questions before advising. My job as a coach is to ask powerful questions to inspire a new perspective for my clients so that they, ultimately, are solving the problem for themself. Advice is never my immediate go-to. I encourage you to employ this same methodology when chiming in: ask an open-ended question (starting with "what...", "how...", "when...", not "why") to see if that question can lead to the solution.

Don't wait, chime in. If you have a burning question that you're hoping I'll address first, I'm going to say right now that waiting will do you no good (because I can't read minds!) Please please please chime in with your question. It's likely that someone else has (or has had) the same question as you, and by holding it in, you're holding back a potential answer from someone else in the group.
Let's test out the Comments feature together, shall we?
See that Comment box below? Don't be shy... chime in with answers to the prompts below.
Your name

Your location in the world

What you do for work as if you were telling it to a 5-year old

One thing that makes you happy
Coach Ali, over and out!